World news story
British Embassy Tokyo Call for bids: Service to coordinate seminars
We invite interested parties to submit bids for the provision of a service to coordinate a series of seminars promoting the investment into the UK. The deadline for bids is 1600 on Thursday 14 June 2018 (Japan time)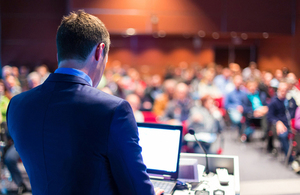 BACKGROUND
The British Embassy Tokyo (BE Tokyo) is working to promote Foreign Direct Investment (FDI) from Japan into the UK to strengthen the economic relationship between the UK and Japan. The UK is the top destination in Europe for Japanese FDI with 22% market share worth £38bn. As part of our promotional activity, we are planning a series of seminars across Japan to reach out to potential investors considering investing in the UK.
DETAILS OF REQUIREMENT
This project consists of two phases. BE Tokyo will evaluate the impact on completion of Phase 1, based on an interim report from the Contractor, before deciding whether to extend the contract to Phase 2.
Phase one [July to October] – current contract: Initial research, 5 seminars and interim report
Phase two [November to March] – if the contract is extended: 5 seminars and final report
Initial research
The Contractor should identify the best locations for 10 seminars across Japan to meet the objective and propose the delivery plan to the Authority by early July. At least 5 of the seminars should be held outside Kanto (Tokyo) and Kansai (Osaka) area to ensure broad reach.
Implementation
Required work includes but is not limited to: securing venues, selecting partner organisations (e.g. local city governments / economic organisations) where appropriate, creating a programme with BE Tokyo, advertising and managing attendance, providing logistical arrangement (e.g. set-up of venue, receptionists), and follow-up with attendees to seek feedback after each seminar. All cost for the relevant activities mentioned above will be paid by the contractor within the contracted budget including the contractor's travel cost. BE Tokyo will provide speakers and content for the seminars. The travel cost of BE Tokyo staff will be covered by BE Tokyo separately.
The first 5 seminars should be delivered from July to September 2018, and the remaining 5 seminars should be held from October 2018 to January 2019.
Reporting
The Contractor should submit an interim report to BE Tokyo by end of September. The report should provide analysis of impact and a record of the seminars including key contacts, feedback from participants, event delivery plan and lesson learned.
BE Tokyo will review the interim report and will inform the Contractor to proceed or not to proceed with Phase 2 by end of October 2018.
If the contract is extended, the contractor should submit a final report to BE Tokyo by end of February building on the interim report.
FCO Reputation
The Contractor should act in line with the vales and standards of BE Tokyo, and avoid causing any reputational harm.
To find out more, including how to bid, please download the Request for Quotes (PDF, 797KB, 20 pages) .
If you have any queries, please contact: APAC.Procurement@fco.gov.uk.
Published 4 June 2018