World news story
British Embassy supports safe use of social media in the Lao PDR
UK funds social enterprise project to promote the safe and responsible use of the internet to young users in Laos.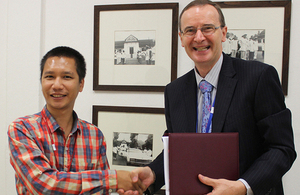 Ambassador Philip Malone this week signed an agreement to support the project "Safe and Responsible Use of Facebook" with Mr Phoutthasinh Phimmachanh, Project Manager from local social enterprise CLICK I4Dev, to promote online safety among young Lao Facebook users.
With support from the British Embassy's Bilateral Programme Fund, the 6-month project will encourage constructive and positive use of Facebook among young Lao people, whilst creating awareness of the potential risks of social media such as the spread of false information or use of socially inappropriate content.
Based on the results of a baseline survey of young Lao Facebook users, the project will develop an illustrated "Do's and Don'ts" poster and online tips, and a series of short videos showing safe and unsafe practices when using Facebook.
Last year, the British Embassy partnered with the National Commission for Mothers and Children (NCMC) and the UK's Child Exploitation and Online Protection Centre (CEOP) to deliver a series of initiatives to safeguard young people both on and off line.
The number of people using the Internet in Laos continues to grow daily. According to recent Lao government statistics, the country currently has at least 520,000 Facebook users, 82 percent of which are under the age of 30.
For further information on CLICK I4Dev, visit their website here
Published 23 September 2014