World news story
British Embassy supports Peruvian Researchers to go global
More than 250 people took part in activities to improve researcher's international competitiveness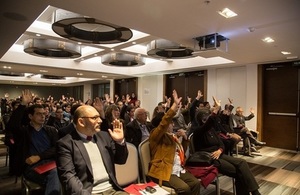 The British Embassy and the British Council together with the valuable support of the National Council for Science, Technology and Technological Innovation (CONCYTEC), organized from 1-11 August, the first Researcher Connect workshop, as well as the Conference of "Effective Communication Strategies for Researchers". These activities have strengthened the abilities of many Peruvians researchers in key communication techniques to improve their performance in the global market and promote the sharing of Peruvian scientific research at a global level.
British Council's Researcher Connect is a series of short interactive learning modules for researchers at any stage of their career and from any academic discipline. It is a professional development course that focuses on the development of excellent communication skills in international, multi-cultural contexts. It has been successfully implemented in regions like Europe, North Africa and South Asia. In the first workshop implemented in Peru, 50 Peruvian researches from different universities such Universidad Cayetano Peruana Heredia, Universidad de Piura, Universidad Nacional Agraria La Molina, Universidad Nacional de Ingeniería y Universidad Nacional de Trujillo, among others, took part.
The Conference of Effective Communication Strategies for Research gathered more than 120 participants among researchers, professors and public officials. In addition, more than 248 people joined the Conference through live streaming.
Both activities were led by Dr. Jodi Nelson, one of the experts involved in implementing Researcher Connect around the world. She holds a PhD in Critical and Creative Practice in Film & Media from the University of Sussex in Brighton. She is also the author of the Best Seller "Confessions of a Working actor", and has more than 20 years' experience in the design of creative enterprises; leadership strategies, marketing, digital marketing and creative business planning.
These initiatives are part of the Project "Improving governance, quality assurance, leadership and internationalisation in Peruvian Higher Education", that is implemented by the British Council with the financial support of the British Embassy in Lima.
Published 11 August 2016