World news story
British Embassy supports nutrition recovery centre in Baja Verapaz
To celebrate the imminent arrival of the second child of the Duke and Duchess of Cambridge, due in late April, the British Embassy hosted a breakfast to raise funds for a nutrition recovery centre that supports malnourished children in northern Guatemala, complementing the Guatemalan government's Zero Hunger Pact.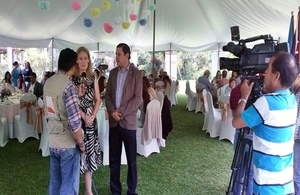 The beneficiary of the funds raised from the breakfast is the Nutritional Recovery Centre (NRC) in Purulhá, Baja Verapaz. The NRC monitors nearly 120 poor children monthly and provides them with basic treatment and food support. The money raised will contribute to the purchase of equipment to help get the affected children the urgent care they need.
The United Kingdom supports Guatemala in its efforts to tackle child malnutrition. The event compliments the efforts of other UK government agencies, such as the Department for International Development's (DFID) aid to UN bodies such as the World Food Programme and the World Health Organisation, to help in the battle against malnutrition in the country.
On 28 April, the British Embassy and other international partners will launch the results of the 2014 Global Nutrition Report that highlights Guatemala's strong political commitment from all stakeholders, and especially the government, on tackling malnutrition and increasing the chances policy continuity across election cycles.
To mark the fund raising event, British Ambassador to Guatemala, Sarah Dickson, said:
I am sure that Their Royal Highnesses would agree that we should mark the upcoming arrival of their new baby by helping to make a difference for other children. We welcome the efforts of SESAN and the Guatemalan government to tackle child malnutrition and are pleased to work with them on this project. We must do what we can to tackle this scourge, and I hope that the funds raised go some way to giving relief to those affected in Guatemala.
Published 27 April 2015