World news story
British Embassy supports Guatemalan athletes with disabilities
The British Embassy has donated 15 Boccia sets to the Guatemalan Paralympic Committee.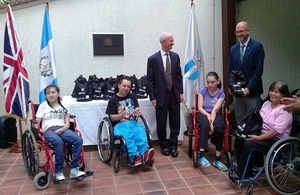 Boccia is a game of strategy and accuracy originally designed to be played by people with cerebral palsy. Now, the sport includes athletes with impairments that affect motor skills.
Thanks to the support of the Great Britain Boccia Federation (GB Boccia), the donation will help to further disseminate the practice of the sport in Guatemala, which since 2005 has seen the development of three Boccia tournaments with the participation of several athletes. The equipment has a value of more than 50,000 quetzals (US$7,500).
The sport is played on a flat, smooth surface, where players must throw or roll coloured balls as close as possible to a white target ball, known as the "jack." The player, pair or team with the most balls near the jack is the winner.
According to the Autonomous Sports Confederation of Guatemala (CDAG) one of the main obstacles to further developing Boccia in the country has been the difficulty of acquiring the equipment and the high costs associated with it.
As a result of this donation the CDAG expects to increase Guatemala's participation in events of the Boccia International Sports Federation (BISFED) and the paralympic movement. The sets will also help the training of a number of entities and people that work with disabled people, such as physiotherapists, psychologists, doctors and others.
To mark the event, Tom Carter, British Ambassador to Guatemala, said:
"As part of the legacy of the London 2012 Olympic and Paralympic games the UK Government committed to work towards greater equality for those with disabilities by changing attitudes, improving access and opening up new opportunities, at home and abroad. To do that, we are working with federations and paralympic committees of many countries. I'm delighted to see that Guatemala is playing its part to enable disabled people to fulfil their potential and play a full role in society. The United Kingdom believes that sport is one of the best ways to achieve that objective and help overcome many challenges".
Published 24 May 2016