World news story
British Embassy supports children at risk in Guatemala
The British Embassy granted a donation to "Fundacion Mi Arca", the operative arm in Guatemala of the global organization Street Kids Direct, that will help children at risk of homelessness in Guatemala City.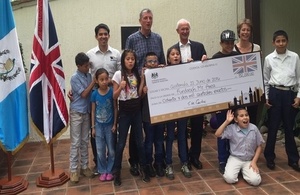 Duncan Dyason, Director of Street Kids Direct; Francisco Rosales, coordinator of mentoring systems at "Fundacion Mi Arca"; and a group or eight children at risk visited the British Residence on 22 June to receive a donation of 82,000 quetzals.
The invitation was extended by the British Ambassador in Guatemala, Thomas Carter. The children had the opportunity to play football, participate in competitions, and have lunch with Ambassador Carter and his wife, Carolyn Davidson.
Mr Dyason welcomed the support, which equates the amount Street Kids Direct raises annually in donations coming from the UK. The funds will guarantee a safe place for the children and a mentoring programme aimed at helping them overcoming violent traumas. The donation will benefit directly 40 children at risk and almost 120 indirectly.
Ambassador Carter acknowledged the important task organizations such as Street Kids Direct, jointly with "Fundacion Mi Arca", perform in Guatemala. Both entities help to make visible the harsh reality a lot of children live in, that exposes them to all types of violence and minimum opportunities for development.
The donated amount was raised through the annual charity British Ball, which counts with many sponsors that provide the main funds. Previously, there is a call for bids when local and international organizations send proposals on how to use the money. These projects are then evaluated by the sponsors and members of the British Embassy, which decide on the beneficiary.
Published 12 July 2016