World news story
British embassy showcases UK-US trade relationship with new interactive map
Interactive tool explores the trade relationship between the UK & US on a state-by-state level highlighting job creation, exports and more.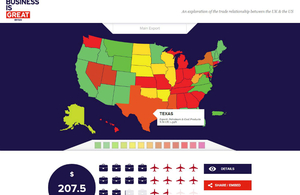 The British Embassy in Washington developed an interactive trade map and microsite to illustrate the trade and investment relationship between the UK and US. Located at UKUSTrade.com, the site links the economies, two of the largest in the world, together in an interactive format to show the strength of the business ties between the two countries.
The US is the UK's most important investing partner, and the interactive map highlights this with state-by-state statistics on what each US state is exporting to the UK. Visitors to the site learn about each state's UK connections, and can click to view data on exports, jobs and investment. The map also highlights each state's total trade value in US dollars and per capita, and UK supported jobs created by UK investment in the US.
The UK is America's biggest trading partner in the EU. The UK does more than 200 billion dollars of bilateral trade a year. Each country invests about a trillion US dollars in each other's economies, and has about a million employees going to work each day for each other.
The microsite features a timeline showing the evolution of the UK and US commercial relationship since 1953; a snapshot of where it stands today; and details of some US industries that are ripe for future UK investment.
The top state for exports to the UK in 2011 was Utah, with 6.6 billion dollars worth of goods. That included the metal for the gold, silver and bronze medals awarded at the London 2012 Olympics, which was mined in Utah by UK companies.
The figures used have been taken from the United States Census Bureau, US Department of Commerce International Trade Association, United Kingdom Department of Commerce International Trade Administration, and U.S. Department of Commerce Bureau of Economic Analysis.
Published 22 March 2013