World news story
British Embassy San Jose funds Costa Rica NAMA research
Research aims to transform the country's livestock sector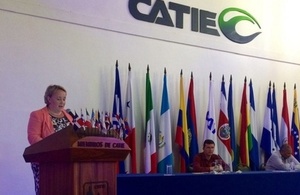 On Wednesday 2 March, the Deputy Head of Mission of the British Embassy, Melanie Smart, attended a workshop organised by the Tropical Agricultural Research and Higher Education Center (CATIE) at its headquarters in Turrialba, which was also attended by more than 90 Costa Rican livestock producers.
The workshop was organised as part of the project "Evidence based decision making: Nationally Appropriate Mitigation Actions in Costa Rica's livestock sector" which is being implemented by CATIE, as part of the British Embassy San Jose's Science and Innovation Programme 2015-2016.
Ms. Smart addressed the participants, among them representatives from CATIE, the Ministry of Agriculture and Livestock (MAG) and the Livestock Corporation (CORFOGA).
She shared some of England's experience, in which "the agriculture sector is adopting cost-efficient practices to increase the energy efficiency of agriculture businesses and help the country reduce emissions of greenhouse gases by 80% by 2050.
These practices," she added, "make agriculture businesses more competitive and sustainable. For example, improvements in the nutrient management system of a farm, by matching nutrient inputs to crop needs can reduce emissions, increase efficiency and save money."
CATIE, along with other beneficiaries of the Science and Innovation Programme, will present their project outcomes on 18 March, 2016, at the British Embassy Science and Innovation Fair, at the Universidad Veritas. This event is free and is open to the public.
Published 4 March 2016
Last updated 4 March 2016
+ show all updates
Added translation
First published.