World news story
British Embassy provides English classes to Costa Rican Police Officers
Thirty law enforcement agents are currently receiving specialised English language training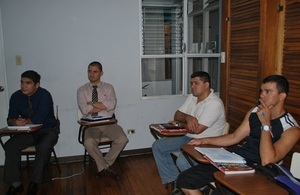 Glass fragments. Chemical composition. Blood patterns. Conclusive evidence.
It's a Tuesday afternoon at the Centro Cultural Británico in San José and police officers taking their weekly English lesson are furiously transcribing the key phrases that the English teacher has scribbled on the whiteboard: Deceased. Breathing. Match by colour.
Today's lesson will cover some grim material – crime scene investigation – and the British Embassy's Vice Consul, Andrew Castle, an ex-police officer and British Army photographer, has volunteered to cover the week's lessons on this topic, as he has done in previous English Language Training programmes run by the British Embassy.
This is the third year that the British Embassy has funded English language lessons for various groups of law enforcement agents. In 2012, about 20 Tourist Police Officers graduated from the first-ever programme, some of whom were able to provide basic interpreting services during the visit of the Queen's Colour Squadron, who trained the Presidential Honour Guard.
In 2013, the Embassy funded a second round of English language training, this time for officers in the Investigative Police (OIJ) from Santa Cruz in Guanacaste and Limon City. The current group of students is a mixture of Tourist Police and OIJ detectives from the Central Valley.
"Costa Rica receives an average of 54,000 British visitors a year, with thousands more coming from other English-speaking countries around the globe," explains the Vice-Consul, Andrew Castle. "These English language classes not only provide officers with an opportunity for professional development, but also allow them to interact more easily and effectively with British tourists who may need their assistance while in country."
As the Costa Rican Tourist Police are based in all the major tourist destinations in Costa Rica, they are the ones that most visitors turn to times of trouble. Officers who have graduated from the programme and those currently in training have all been enthusiastic about the programme and confirm that they feel more confident when dealing with English speakers.
The British Embassy expects to run its fourth instalment of the programme in late 2015.
Published 6 July 2015