World news story
British Embassy Montevideo closed on May 1
Please note that the British embassy will be closed to the public on Wednesday 1 May for Labor Day.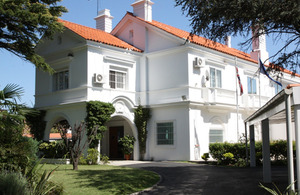 We are not able to take telephone calls or receive visitors on this day. The embassy will reopen for normal business on Thursday 2 May, when we will be available to handle telephone enquiries.
If you have an enquiry about consular services, please check our services.
If you are enquiring about a British passport, please note that this embassy does not issue full British passports, and applications should be sent directly to the Regional Passport Processing Centre (British Embassy, 19 Observatory Circle N.W.,Washington DC 20008). Full information can be found on the Passports pages.
If you have a genuine emergency cases are covered by the Global Response Centre. You can contact them on +598 2622 36 30.
For other routine enquiries, please call during our working hours on Thursday 2 May 2013.
Published 30 April 2013