World news story
British Embassy marks Summit to End Sexual Violence in Conflict
The British Embassy held a reception to mark the Global Summit to End Sexual Violence in Conflict taking place in London from 10-13 June.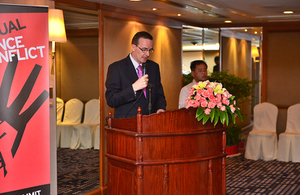 The Global Summit is a joint initiative from the UK's Foreign Secretary William Hague and Angelina Jolie, UN Special Envoy for the UN High Commissioner for Refugees and renowned Hollywood actress-film director.
The London Summit convenes 630 government delegates from 113 countries, 950 registered experts and over 100 NGOs and international partners. During the days of the summit, there are 140 free public Fringe events and a Global Event Relay, where British Embassies, High Commissions and Consulates throughout the world hold events to promote the aims of the summit and garner international support for its objectives.
The British Embassy Vientiane participated in the Global Event Relay with a reception on 12 June to mark the Summit and bring together officials from the National Assembly of Lao PDR, relevant ministries, as well as guests from NPAs and iNGOs who are supporting the government and the National Assembly in its efforts to prevent violence against women and children. Winning pictures from last year's school drawing contest on domestic violence and violence against women, organised by the Ministry of Information and Culture and the Gender Development Association, were displayed at the event.
As a campaign to support the Summit with localised efforts in Laos, the Embassy has partnered with the Gender Development Association to raise awareness amongst the Lao population about domestic and gender-based violence with the distribution of information material on violence against women and a series of radio spots in Lao, Hmong and Khmu languages to be broadcast during the month of June.
Follow the Summit live
There are several ways you can keep up-to-date with developments at the summit:
Published 13 June 2014