British Embassy Manila and partners host special screening of the film 'Metro Manila'
The British Embassy and its partners hosted a special screening of 'Metro Manila' by British filmmaker Sean Ellis to celebrate UK creativity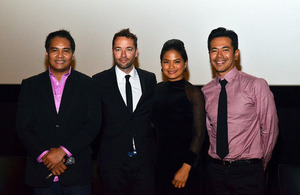 The British Embassy, British Council and its partners hosted on 4 October a special screening of 'Metro Manila', a film by Oscar-nominated British filmmaker Sean Ellis to celebrate British culture and creativity.
Mr Ellis' masterpiece won the Audience Award for World Cinema in this year's Sundance Film Festival. He has been previously nominated for an Oscar best short live action for "Cashback" in 2006 and for a BAFTA best short for "The Business Trip" in 2009.
'Metro Manila' will be shown in local cinemas beginning 9 October, Wednesday.
Trevor Lewis, Chargé d' Affaires at the British Embassy said:
We're delighted to host this special screening of Metro Manila as the first event of our GREAT campaign in the Philippines. It's a wonderful example of merging UK expertise with Filipino talent, something we're aiming to do in all areas of our work in the Philippines. And the fact that the British Academy of Film and Television Arts has nominated Metro Manila for best foreign language film for the 2014 Oscars, shows that the final product of this collaboration is a world class effort.
Mr Ellis spoke highly of his stellar Filipino cast lead by Jake Macapagal and John Arcilla. Mr. Ellis said:
Everyone was super-prepared and it's evident in the performances. I'm most proud of the performances. There wasn't a day on the set that wasn't fulfilling.
Below is the full trailer of the film.
The special screening of 'Metro Manila' is part of 'This is GREAT Britain', a five-month celebration of the best of British business and culture culminating in The Great British Festival at the Bonifacio High Street on 7 to 9 March 2014. 'This is Great Britain' is presented by the British Embassy Manila in cooperation with British Chamber Of Commerce Philippines, British Council Philippines, British Alumni Association and Bonifacio Global City. Media partners include Mellow 94.7 and Solar News Channel.
Published 7 October 2013