World news story
British Embassy Luxembourg and British Council Brussels attending the 'Foire de l'Etudiant'
Information and advice on higher education study in the UK at the Luxexpo education fair, Luxembourg 9 and 10 November, 2016.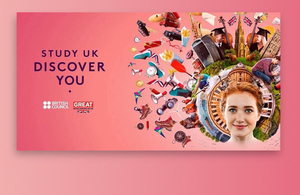 British higher education institutions traditionally have been popular with students from Luxembourg. Therefore anyone interested is invited to visit the British Embassy/British Council information stall at the 'Foire de l'Etudiant' at Luxexpo - stand no. A05 in hall 3 - on the 9 and 10 November 2016, where information can be obtained on the application procedure, deadlines, required documents such as language tests, and the costs. In addition to the Embassy stall there will be a number of representatives from British universities present to give more detailed information on individual universities as well as specific courses and subject combinations they offer.
The British Ambassador to Luxembourg, John Marshall, said:
Luxembourg students have been applying to study in the UK in increasing numbers and we hope that will continue. UK Universities offer an excellent education and a stimulating environment. Twenty three UK universities are in the top 150 in the world according to the Times Higher Education World University Rankings 2016-17.

Britain packs an amazing amount of history, culture and natural beauty into its shores. What better way to discover the richness and diversity of British society than to study at one of its life-enriching universities whether in England, Northern Ireland, Scotland or Wales.
Although the United Kingdom will be leaving the European Union eventually, nothing is going to change for students beginning their university course in the academic year starting in September 2017. The British government announced that EU students applying for a place at an English university or further education institution beginning in September 2017 will continue to be eligible for student loans and grants - and will be for the duration of their course. The decision will mean that students applying to study from 2017 will not only be eligible for the same funding and support as they are now, but that their eligibility will continue throughout their course, even if the UK exits the European Union during that period.
Published 7 November 2016