World news story
British Embassy Lima cosponsors Public Works Tax Deduction event
In collaboration with the British Peruvian Chamber of Commerce and ProInversión. Event promotes this mechanism in the Peruvian market.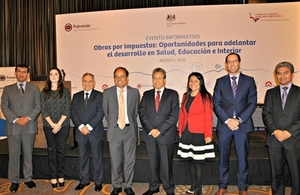 On August 28, the British Embassy Lima cosponsored a Public Works Tax Deduction event called "Public Works Tax Deduction: Opportunities to Advance Development in Health, Education and Interior." The event was held in the Hilton hotel in the Miraflores district of Lima.
With opening words by HMA Anwar Choudhury, the event featured speakers specialised in health, education and interior. Present were also Enrique Anderson, President of the British Peruvian Chamber of Commerce, and Carlos Herrera, Executive Director of ProInversión.
The event also featured testimonies from private beer company Backus, of British origin, which is the first business in Peru who opted for this mechanism. The mechanism "Public Works Tax Deduction" is an initiative that allows private companies to finance public projects in exchange for taxing benefits while coordinating with regional and local governments. The idea has attracted international interest.
Published 1 September 2015