World news story
British Embassy launches Peru's first portable lab for the diagnosis of TB
This innovative laboratory is a practical, economical, portable and safe solution to tackle tuberculosis in Peru.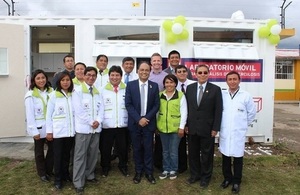 HMA Anwar Choudhury presented the first portable tuberculosis (TB) diagnostic laboratory in the Junín region, along with the President of the Congress of the Republic of Peru, Luz Salgado Rubianes, and Congresswoman Paloma Noceda , President of the UK-Peru Parliamentary Friendship League.
The lab also received support from the Junín Regional Health Authority (Diresa); Dr Julia Rosa María Ríos Vidal, Coordinator of the National Strategy for the Control and Prevention of Tuberculosis (MINSA), and the regional governor of Junín, Mr Angel Unchupaico Canchumani.
The mobile laboratory was developed by the British company Alcamilabs, led by Dr. David Moore, an infectious disease physician and Director of Infectious Diseases and Tropical Medicine at the Hospital for Tropical Diseases in London, and supported and financed by the British Embassy in Lima, thanks to the UK Prosperity Fund.
This innovative laboratory is a practical, economical, portable and safe solution to tackle the rise of tuberculosis in Peru. It will allow patients to obtain a diagnosis in just 7 days, as opposed to the 2 or 3 months previously, and to satisfy the health needs of the most remote and vulnerable areas of the region.
In the coming months the lab will be transported to Satipo and Chanchamayo - two areas with the highest rates of tuberculosis. Thanks to the lab, it is expected that the Health Department of the Regional Government of Junín will be able to test up to 2,000 patients over the next four months.
British Ambassador Anwar Choudhury added:
A portable British TB lab does not have to cost a fortune. It is set up in a shipping container, which makes it transportable, and it can be made for only a fraction of the cost of a fixed lab.
The President of Congress, Luz Salgado, called for a national policy against tuberculosis that would involve all segments of the population. At the opening ceremony of the laboratory, she said:
When I received the Ambassador's invitation, I could not refuse it for two main reasons: I am a member of the Parliamentary League against Tuberculosis at a global and Latin American level, and also because here, in this region, the UK is bringing technological innovation that will help us fight this terrible disease.
Tuberculosis is a disease with one of the highest infection and mortality rates in the world. Peru occupies one of the top spots in the Americas with 27,000 new cases registered per year, largely due to extreme poverty and a lack of access to medical care and proper diagnosis.
Document information
Published: 19 January 2017