World news story
British Embassy launches initiative to safeguard children online
The British Embassy and its partners are launching a campaign to safeguard children against online abuse.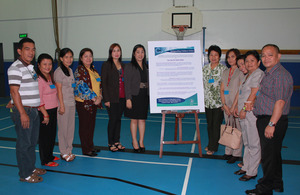 The Safeguarding Children Online campaign will raise awareness on the dangers that children can face online. The British Embassy Manila will provide practical information about online protection through its partners in government, media, civil society and the academe that are geared towards children, as well as their parents and carers. A micro-site in the British embassy website will be central to this information drive.
Steph Lysaght, Chargé d' Affaires at the British Embassy Manila explained:
Child protection is an issue that resonates on a global level. While the Internet is an important tool for children, there are risks our children face each time they go online. Our campaign provides information about such risks as cyber bullying, cyber sexual abuse and inappropriate sites for children and their parents and carers. We have worked with local organisations as the Child Protection Unit Network in helping protect children and our campaign builds on these efforts. Information can be found on the British Embassy Manila website and we encourage everybody to visit our website to learn more about protecting ourselves and our children online.
This campaign is launched alongside a new international initiative to prevent sexual offenders who have worked in the UK from travelling to other countries and gaining access to children through teaching or volunteering roles.
Representatives from government departments were present to back the initiative, including the Philippine National Police, Department of Education, Department of Social Welfare and Development, the Department of Interior and Local Government, the League of Cities of the Philippines and the Council for the Welfare of Children. Media partners GMA Network, Rappler and The Philippine Star also lent their support.
Meanwhile, specialist child protection workers and law enforcement officers working to tackle sexual abuse will be attending a three-day Safeguarding Children training course hosted by the UK's Child Exploitation and Online Protection (CEOP) Centre and the British Embassy, which will include the launch of the International Child Protection Certificate.
CEOP's International Child Protection Certificate (ICPC) will help identify and screen out those who are unsuitable to be working with children. CEOP has found that some international schools, charities and other agencies overseas do not currently have access to the same level of police checks available to organisations in the UK, sometimes enabling sex offenders to gain positions of trust with children.
Peter Davies, Chief Executive of CEOP said:
There is clear evidence to suggest that serious sex offenders who are known to authorities in the UK will often seek out opportunities to work or volunteer abroad. In many instances this will be through teaching roles but could equally be through other occupations such as a charity worker, an orphanage worker or as a children's home worker. The International Child Protection Certificate is intended to be a world-wide safeguard which will give employers and voluntary organisations reassurance that applicants have no convictions in the UK which would make them unsuitable to work with children.
It's the only UK police check for anyone who has resided in the UK and who now lives and works overseas, so it's an essential pre-employment or placement check to protect children.
Published 12 February 2013