World news story
British Embassy in Uruguay celebrated the legacy of London 2012
To mark the anniversary of the Games, the Embassy hosted an activity with the team that will compete in the Danone Nations Cup, in London.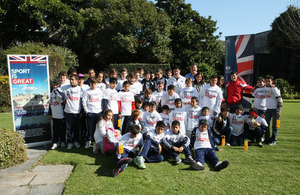 The children from Independencia football club, from the interior city of Paysandú, came to Montevideo on 27 July to participate in an event held at the Ambassador's Residence, along with other children from the capital.
The British Ambassador, Ben Lyster-Binns, welcomed them and highlighted how lucky they are to travel to the United Kingdom to play a tournament at Wembley. He wished them well and reminded them that the stadium was home of the Olympic Games football final, and that the Uruguayan team also played there during the Olympics.
The Ambassador told the children that London 2012 inspired millions of people around the world to practice sports and he said that the little football players were "an example of commitment and dedication."
During the event the children played a football match in the Residence's garden and watched a play about the values and legacy of London 2012, the importance of "fair play" and of being good people as well as good athletes.
The children took home a T-shirt with the inscription "Sport is GREAT", part of the GREAT campaign, to remember this special day.
Published 29 July 2013