World news story
British Embassy in Poland hosts a UK-Poland Infrastructure Forum with the British-Polish Chamber of Commerce.
An event on the development and financing of sustainable transport policy for Poland was held in the British Embassy on 23 May.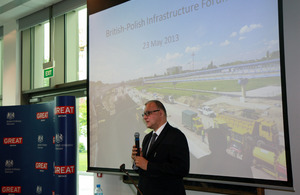 The forum was organised by the Embassy and the British-Polish Chamber of Commerce (BPCC). Aimed at the construction sector, logistics companies, financial institutions as well as government officials and transport/infrastructure regulators, the forum offered insight into UK best practice in finding and financing optimum solutions. The event was opened by BPCC Chairman Antoni F. Reczek, Ambassador Robin Barnett and Poland's Deputy Transport, Construction and Maritime Economy Minister Andrzej Massel.
The governments of the UK and Poland both recognise the importance of a sustainable transport policy. Speakers and panellists presented a vision of an ideal transport policy that would be acceptable to both public and private stakeholders. A focus on UK best practice in innovative financing solutions for infrastructure projects was expanded by Charles Doyle, Corporate Finance principle from transport for London, who explained how London's Crossrail project was being financed.
The event attracted around 100 representatives of Polish and British Business, government and NGOs. It was part of a series of conferences the Embassy and the BPCC have organised on infrastructure. Planned follow-up events will be devoted to Public-Private Partnership and Public Procurement.
Published 24 May 2013