World news story
British Embassy in Poland commemorates the 69th anniversary of the Battle of Monte Cassino
On 20 May, the British Embassy paid tribute to the Polish, British and Allied forces who fought and died at Monte Cassino in WWII.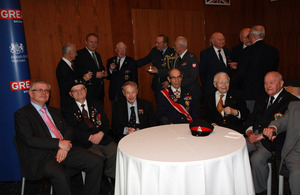 In reality, the Battle of Monte Cassino was a series of 4 frontal assaults by Allied Forces against the German 'Winter Line', which formed part of the Allied plan to breakthrough to Rome and hasten the end of the long-drawn out and hard-fought Italian campaign.
Her Majesty's Ambassador, Mr Robin Barnett and the Defence Attaché, Group Captain David Houghton, attended a wreath-laying ceremony at the Monte Cassino Memorial in Warsaw, in the company of Polish veterans of the Battle and Ambassadors and Attachės from nations that fought on both sides of the battle lines at Monte Cassino.
Later, the Ambassador hosted a Reception at the British Embassy, where guests were able to meet and chat with Polish veterans of the Battle and view artefacts from the Monte Cassino, kindly loaned to the Embassy for the Reception by the Polish National Army Museum. The Ambassador paid tribute to the courage and fortitude of all those who fought at Monte Cassino, including the Polish 12th Podolian Uhlans Regiment who raised the Polish flag at the summit of Monte Cassino on 18 May 1944 - the final victory was theirs.
Published 21 May 2013