World news story
British Embassy in Poland co-organises a biomedical research conference
An event on legal, ethical and societal aspects of biomedical research was held in Gdańsk on 16-17 May.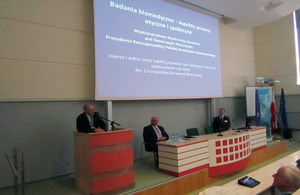 On 16 May, the British Embassy's Science and Innovation Officer together with the Polish Ministry of Science and the University of Gdansk organised an international conference on Biomedical research - legal, ethical and societal aspects. The conference received the honorary patronage of the President of the Republic of Poland. The aim of the event was to consider possible regulatory and ethical solutions that could be implemented in Poland to protect patients and researchers taking part in biomedical studies.
The conference brought together international experts who presented best practice in policymaking from other countries, and made recommendations for suitable regulations, which could be adapted to meet Polish needs, and potentially fit within the existing legal framework.
The UK was represented by Dr. Mark Bale, Department of Health, Dr. Karen Melham, Centre for Health, Law and Emerging Technologies at the University of Oxford and Dr. Hugh Davies, National Research Ethics Service and Health Research Authority.
It was agreed that any new regulations in Poland would provide a solid basis for wider biomedical research, not only bilaterally with the UK, but also through European and worldwide mechanisms.
The challenges in biomedicine are boundless. Tackling infectious diseases, dementia, obesity must be addressed at a global level, with the contribution of Polish experts.
We hope this conference was a major cornerstone in developing the discussion of the legislative process in Poland. For more information about the event please contact: magda.gajownik@fco.gov.uk
Published 20 May 2013