World news story
British Embassy in Montevideo launches "Ambassador for a Day"
The winners will have the opportunity to spend a day with British Ambassador Ben Lyster-Binns.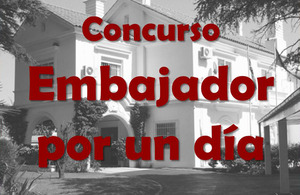 To celebrate the 60th anniversary of Queen Elizabeth's Coronation, the British Embassy in Montevideo is pleased to launch the "Ambassador for a Day" competition. The winners will gain insight and experience of what an ambassador and the British embassy does in Uruguay.
Rules:
The competition is for students aged 15 to 18 years old. It is not required for participants to speak English.

Participants answer a quiz about Queen Elizabeth II on Survey Monkey, published also in our Facebook page.

Those who answer all the questions correctly will participate in a draw to decide the winners of the prize.

The competition will run from Monday 13 May, 10:00 to Friday 24 May at the same time.

On Tuesday 28 May the draw will take place in the presence of a public notary to choose two winners; a girl and a boy. Results will be published on the British embassy's Facebook page on the same day.

On Wednesday 29 May the embassy will contact the winners to coordinate their participation in "Ambassador for a Day".
Prize:
The winners will accompany the British Ambassador in Uruguay, Ben Lyster-Binns, for a working day in June. Lunch will be provided. They will also be invited to the reception to commemorate the 60th anniversary of the Coronation of Queen Elizabeth II on 4 June at the British residence, accompanied by an adult.
Published 13 May 2013