World news story
British Embassy in Lima Celebrates HM Queen Elizabeth II's 91st Birthday
Peruvian President Kuczynski and other government officials attended, as well as Peruvian athletes and representatives of the country's sporting community to celebrate the importance of sport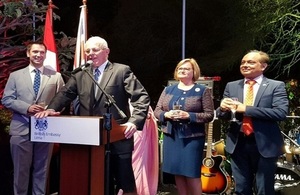 With over 600 guests in attendance, the British Embassy in Lima celebrated on 27 June Her Majesty Queen Elizabeth II's Birthday at the Ambassador's residence. This year the Queen became the longest reigning monarch in the world.
The event brought together Peru's President, Pedro Pablo Kuczynski, Ministers of State, the National Prosecutor, Congressmen and government officials, representatives of the diplomatic and military corps, and members of the British community in Peru, as well as Peruvian athletes and representatives of the country's sporting community. A central theme of the evening celebrations was the important role of sport.
Guests of honour President Kuczynski and First Lady Nancy Lange addressed the audience, offering congratulations on this special occasion and appreciation for the British Embassy's work in Peru. The President also recalled his time studying and living in the UK.
Her Majesty's Ambassador, Anwar Choudhury, highlighted the UK's support to Peru as a strategic partner in hosting the 2019 Pan American Games in Lima. He also highlighted British expertise in delivering international sporting events, such as the London Olympics 2012, and the opportunity presented by the Pan American Games to leave a lasting legacy for the city of Lima and the entire country.
Earlier this year the UK's Department for International Trade (DIT) and the Peruvian government agreed on UK support and knowledge-transfer to help deliver the Lima 2019 Pan American and Parapan American Games. The bilateral understanding is established in an international cooperation framework which seeks to assist Peru in successfully carrying out the Pan American Games whilst also leaving a lasting economic, social, urban, and sporting legacy.
The marvellous celebration was made possible thanks to the generous support of AngloAmerican, British, Backus, Belmond, British Council, Currie & Brown, DIAGEO, DP World, EY, G4S, Hochschild Mining, Jaguar / Land Rover, JLT Peru, Russell Bedford, Shell, and Sotheby's.
Guests at the residence enjoyed a variety of dishes and drinks, such as fish & chips, chicken tikka masala, gin & tonic, whisky, and beer, all of which illustrate British heritage and creativity, as well as the mix of cultures that characterises the UK.
Published 4 July 2017