World news story
British Embassy in Dublin "goes green" for St Patrick's Day 2014
Marking the close relationship between the UK and Ireland, the British Embassy will 'go green' for the first time to mark St Patrick's Day.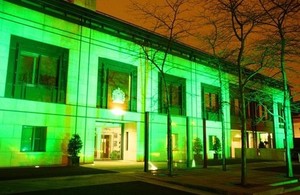 The "greening of the embassy" will take place from Thursday 13 March until Tuesday 18 March in celebration of the close personal, economic and cultural links between Ireland and the UK.
The event in Dublin takes place as anticipation grows ahead of the first ever State visit by an Irish President to the UK, and builds on remarks made at the recent summit between Prime Minister David Cameron and Taoiseach Enda Kenny, where both said "relations have never been better".
Irish communities across Britain will also be celebrating St. Patrick's Day with large events and festivities planned in London, Manchester and Birmingham. The London Eye will go green along with HMS Belfast. Other buildings set to go green include Manchester Town Hall and for the first time, the new SSE Hydro in Glasgow.
Across the island of Ireland, St. Patrick's Day parades will take place in towns and counties with large scale festivals planned in Dublin and Belfast.
The British Embassy joins over 70 famous sites across the world going green in 2014 including the Pyramids in Egypt, the 'Welcome' sign in Las Vegas, the Sydney Opera House, the Leaning Tower of Pisa, Table Mountain in South Africa, Niagara Falls, the Empire State Building in New York, the Prince's Palace in Monaco, the Allianz Arena and Odeonsplatz in Munich, the Sky Tower in New Zealand and the Cibeles Palace and fountain in Madrid.
Published 14 March 2014