World news story
British Embassy in Budapest supports TI Hungary
On 17 June 2013 British Ambassador Jonathan Knott and Transparency International Chairman József Martin signed a contract of support.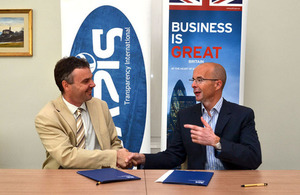 The British embassy pledged financial support for the soon-to-be launched Transparency International (TI) "Dance Against Corruption" nationwide awareness raising campaign.
As part of the event series members of TI Hungary will visit youth festivals, organise flash mobs, hold games and offer quizzes through which people can learn more about the damaging impact of corruption and about what they can do to prevent it or how to act on witnessing it. Ambassador Knott is scheduled to personally take part in some of these events, talk about related measures introduced in the UK and highlight the UK's G8 chairmanship's transparency plans.
The British Embassy in Budapest is an active supporter of transparency. On the occasion of the International Anti-corruption Day in December 2012 Ambassador Knott was one of the speakers at an international conference in Budapest. In June 2013 one of the policy officers of the embassy teamed up with pro-transparency activists to complete the Budapest Marathon Relay and raise awareness of the importance of pro-transparency activities.
Published 4 July 2013