British Embassy hosts Gala Premiere as SPECTRE released in Guatemala
The British Embassy in Guatemala hosted a red carpet 'Bond is GREAT' gala premiere to celebrate the release of SPECTRE in Guatemala.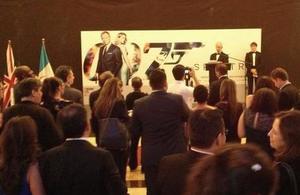 On Wednesday 4 November the British Embassy together with Sony Pictures Entertainment, hosted an impressive gala premiere to celebrate the release of Bond's latest movie, SPECTRE, in Guatemala.
His Excellency Thomas Carter, British Ambassador to Guatemala, welcomed authorities, political figures, prominent business leaders and members of Guatemalan society to an elegant cocktail reception at Arkadia, a luxury shopping mall in the heart of Guatemala City.
With a Bond-themed display showcasing the finest in British luxury and style, guests enjoyed ice-cold Belvedere martinis and beer courtesy of Heineken, while admiring the luxurious Land Rover vehicles on show that featured in the movie.
It was in fact a double celebration for the British Embassy, as this was the first time Ambassador Carter hosted a reception with many of the Embassy's contacts since his arrival in August this year. To mark the event, the British Ambassador to Guatemala said:
James Bond is one of the greatest film franchises of all times, and the UK is a world leader in movie production. I'm sure as Guatemala develops its movie industry we can surely find ways to cooperate in the business of entertainment. And also I would like to thank the sponsors of tonight's gala: Land Rover, Heineken, Belvedere Vodka, Omega, Mac Cosmetics and Sony Entertainment.
As the reception drew to a close, guests made their way up to a special premiere screening of SPECTRE at Cinemark Premier, ahead of the film's official release in Guatemala on 5 November 2015.
Published 5 November 2015