World news story
Guatemalan exporters helped to meet UK food security standards
The British Embassy in Guatemala is funding a two day seminar aimed at introducing Guatemalan exporters to the BRC global standards.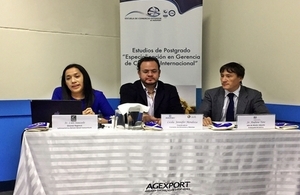 The British Retail Consortium (BRC) global standards are used worldwide to certify food security. They are used by over 22,000 certified suppliers in 123 countries, with certification issued through a worldwide network of accredited certification bodies. The Standards guarantee that quality, safety and operational criteria are met, ensure that manufacturers are fulfilling their obligations, and provide protection for the end consumer. Adherign to the standards could provide a boost to UK-Guatemala trade relations.
This project, a partnership between the British Embassy and the Guatemalan Association of Exporters (Agexport) and its Food and Drink Committee, discussed the BRC Global Standards general guidelines and designed a roadmap for local companies to establish the first Guatemalan accredited certification body. The seminar was led by the international expert and certified consultant, Luis Saucedo.
The event was attended by Agexport affiliated and non-affiliated companies. The participants acknowledged the importance of the BRC Global Standards in boosting UK-Guatemala trade opportunities, especially those newly created by the EU-Central American Association Agreement. Last year Guatemala exported US$70 million in goods to the UK. Total commerce between the two countries grew by US$1 million between 2013 and 2014.
To mark the inauguration of the event, Andrew Tate, Deputy Head of Mission of the British Embassy in Guatemala, said:
This seminar is an example of the United Kingdom's commitment to economic statecraft and to our deepening economic engagement throughout the world, including Guatemala. By embracing these standards, Guatemalan companies not only will be able to export more to the UK, but British companies will also look to Guatemala as a reliable partner in a more globalized production chain. This is a small step in the right direction that is bringing us closer to our goal of a seamless and functional network of trade agreements that will reinforce the ties between our economies and create jobs.
Published 18 February 2015