World news story
British Embassy Guatemala presents the UK offer to Quetzaltenango
On a two day visit to Quetzaltenango, the embassy enhanced its political, commercial and cultural ties with Guatemala's second largest city.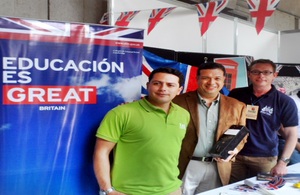 The mission was lead by the Chargé d'Affaires, David McNaught.
The embassy team participated in the International Trade and Cultural Fair, XelajuEs, met with local authorities, including the city mayor Jorge Barrientos, and visited Universidad Rafael Landivar to promote the opportunities to study in the UK.
Chargé d'Affaires McNaught also visited a women's refuge that had received UK funds via the campaign "Break the Cycle of Violence" that the embassy continues to support.
After the visit, Chargé d'Affaires McNaught said:
"I am delighted that we could participate again in XelajuEs. Quetzaltenango is important to us and the work of the British Embassy in Guatemala. We were able to meet students enthusiastic about studying in the UK, and also to share the UK's Olympics experience as the city prepares to host the Central American and the Caribbean Games in 2018. We look forward to visiting Quetzaltenango again."
Further information
To see pictures of the embassy's visit to Quetzaltenango, please visi our Facebook page.
Published 21 May 2013