World news story
British Embassy discusses policies and priorities with Congress
Members of Congress, including deputies and advisors, gathered to analyse the challenges the Guatemalan political system faces in the light of the citizens' demands for change, and agree a course of action in a forum sponsored by the British Embassy.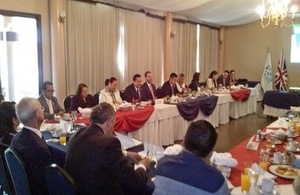 The event was attended by representatives of the major political parties represented in Congress, including FCN (ruling party), UNE, Movimiento Reformador, and TODOS; and the heads of the Committees of Food Security, Small and Medium Enterprises, Electoral Affairs, Health, Indigenous Peoples, and Migrants, amongst others.
The gathering comes at a time when the Guatemalan Congress is involved in a series of discussions and reforms aimed at addressing demands for transparency and accountability.
Local think-tank ASIES gave a presentation of some core reforms that could provide a much-needed boost to the current political system, and some thoughts on the need to strengthen the justice sector, whilst reducing impunity and making justice available for all. The debate was then opened for all participants to provide their views on these matters.
The British Embassy and ASIES agreed to follow up on the main recommendations agreed by the deputies and keep working for the democratic development of Guatemala, in order to avoid another political crisis such as that seen in 2015.
To mark this special gathering, British Ambassador, Thomas Carter, said:
I congratulate those Congressmen that came today to share their views and concerns on what's going on in the country. Guatemala gave an example to the world last year by overcoming its political crisis in a peaceful manner. I call on you to avoid a new one by committing to embrace the changes Guatemalan people are calling for. The United Kingdom is looking forward to continue working with all Guatemalan institutions, including Congress, to strengthen democracy, the rule of law and individual freedoms.
Published 13 April 2016