British Embassy discusses latest "Brexit" developments at forum in Guatemala City
The British Embassy participated in a forum hosted in Guatemala City by several academic organizations to better understand the effects of the UK's decision to leave the European Union (EU), commonly known as "Brexit".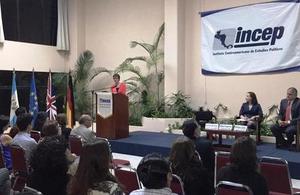 The activity was held in the premises of the Central American Institute of Political Studies (INCEP) and featured the presentations of Carolyn Davidson, British Ambassador to Honduras; and Stefano Gatto, Ambassador of the EU in Guatemala.
The forum entitled "Rethinking integration models: from the EU to Brexit and Central America" intended to analyse the effects of Brexit on Europe and how Central America could apply those experiences into its economic and political unity. Nearly 50 students from the Universities of San Carlos and Rafael Landivar participated in the activity.
Ambassador Davidson spoke about the UK's plans to formally trigger the process of leaving the EU no later than the end of March next year. She also stressed that even outside the union, Britain is keen to strike an agreement that reflects the kind of mature, co-operative relationship that European close friends and allies have.
For the UK Government the forum was also an opportunity to reiterate its commitment towards Central America, as evidenced in a number of key areas, such as the economy, the rule of law, the fight against corruption and the protection of individual freedoms. Ambassador Davidson underlined that the UK remains an important global player and an outward looking country where free-trade was at the top of the agenda that must include the Isthmus.
To mark her participation at the event, Ambassador Davidson said:
The UK is leaving the EU but we are not turning our back on Europe, and we want to maintain strong relations with our neighbours and around the world. Our ambition is to use 'Brexit' as a springboard to even deeper and wider relationships that create even greater prosperity and security for the UK and its partners, including Central America.
Published 15 October 2016