World news story
British Embassy confirms its continuous support to higher education in Albania
Ambassador Cannon says Albanian officials can draw interesting lessons from the experience of the university reform in the UK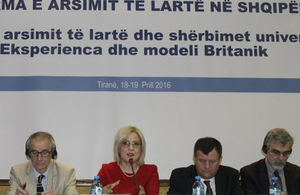 British Ambassador to Albania, Nicholas Cannon addressed a two-day conference on higher education funding. Albanian Minister for Education and Sports, Lindita Nikolla, and British and Albanian experts in the field of education took part in the event organised by the British Council. The conference aimed at bringing the British model in matters related to the financing of higher education institutions.
Ambassador Cannon noted that during his time in the country he has become aware of how much Albanian families value education. He was also pleased that the British Quality Assurance Agency has been able to assist the Ministry of Education in the framework of the new law on higher education in Albania." We are certainly not trying to impose a "British model" on the Albanian university sector. But we believe that our expertise and experience could be of value in the reform process. University reform in the United Kingdom has been a difficult process, with many successes and some failures: we believe that Albanian education officials and academics can learn interesting lessons from both"- Ambassador Cannon said.
Minister of Education, Lindita Nikolla said that the new scheme of funding will ensure that financing goes to those institutions showing higher quality, providing thus better education for Albanian students.
Britain, through its embassy in Tirana and the British Council support the higher education reform in Albania for a series of reasons, such as accelerating Albania's EU integration and helping the country open up its considerable economic potential. Moreover, British experts working alongside their Albanian colleagues will learn things here that can be used elsewhere, including back in Britain itself.
Published 26 April 2016