World news story
British Embassy celebrates one year since Erick Barrondo won Guatemala's first Olympic medal
And is organizing a 5 Kms Race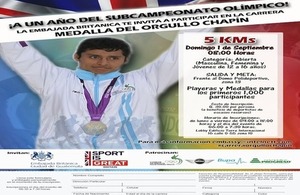 To celebrate one year since Erick Barrondo won a silver medal at the 2012 London Olympic Games, Guatemala's first ever Olympic medal, the British Embassy, with the support of the Guatemalan Olympic Committee (COG), has organized a five kilometres run to raise funds to help disadvantaged children have better access to sport. .
The race, called "Carrera del Orgullo Chapín", will take place on Sunday 1 September from 08:00. The race starts from the parking lot of the Sports Dome, Zone 13, and will finish there too. Shirts and medals will be awarded to the first thousand participants, and there will also be prizes for the top finishers in a range of categories.
The event, which is also being sponsored by MINI, CDAG, Bupa, and Cementos Progreso, is part of the UK's "Olympic legacy" aimed at encouraging more participation in sport, promoting disability rights and sport, and sharing London's experience of hosting with Olympics with Xela as it prepares to host the Central American Games in 2018.
To mark the event, the British Ambassador to Guatemala, Sarah Dickson, said: "I think the legacy of the London 2012 Olympic Games will endure over time and it will be remembered by all Guatemalans, due to Erick Barrondo's great achievement and that of the whole Guatemalan team that participated in London. I hope that their efforts – and the race on 1 September - will motivate more Guatemalans to participate in sports".
Registration will be at the British Embassy on 16 Calle 0-55 Zona 10, Edificio Torre Internacional on Monday - Thursday between 9 to 12.30 and 14.00 to 16.00, and also on the morning of the race before 0700. The participation fee is Q30.00. For more information call 2380-7300 or follow us on Facebook (https://www.facebook.com/ukinguatemala) and on Twitter (#carreraorgullochapin).
Published 21 August 2013
Last updated 21 August 2013
+ show all updates
Adding translation
First published.