World news story
British Embassy celebrates 1st Aswan marathon by shining a spotlight on sports.
British Embassy celebrates 1st Aswan marathon by shining a spotlight on sports.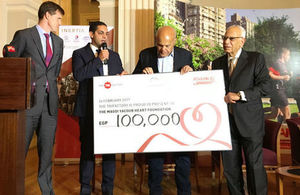 On 28th February, British Ambassador to Egypt John Casson hosted a celebration of sport in Egypt.
The reception's guest of honour was Professor Sir Magdi Yacoub, who was one of the runners at Aswan42 which took place on February 24. Sir Magdi Yacoub was accompanied by leading figures from the foundation and from Aswan Heart Centre. The celebration of the marathon – which was supported by the Embassy's Inspire Egypt campaign – culminated in the presentation of a cheque to the Magdi Yacoub Heart Foundation by Ayman Hakky, founder of The TriFactory.
Professor Sir Magdy Yacoub said:
We're extremely grateful for the efforts of Tri-Factory, both to organise this event, and to raise funds for the heart foundation. Egypt has one of the highest rates of heart disease in the world, and I'm pleased to see so many people taking part in regular sports, which is a crucial part of fixing this problem.
Also present on the night were a range of other groups promoting and participating in sports in Egypt. This included Faiza Heider, captain of the Egyptian women's football team, who spoke of the importance of women and girls taking part in sports. Other groups such as Cairo Runners and the Global Biking Initiative attended and spoke of their future plans. And the event was used to showcase some unsung heroes, including the blind football team and Cairo Crit. This event took place under a new initiative called 'Inspire Egypt', which aims to showcase Inspiring Egyptians doing Inspiring things.
British Ambassador John Casson said:
It is inspiring to see Egyptians bring the same energy to solving the country's social challenges as they bring to their daily lives. What we have in front of us is a group of young Egyptians, partnering with the leading light in the field of heart surgery, on an initiative that is helping the country. This is a clear example of inspiring Egyptians doing inspiring things. That's what Inspire Egypt is all about. Empowering Egyptians to solve problems and build the new Egypt.
Published 1 March 2017