World news story
British Embassy Bucharest WW1 Centenary Commemoration
Bucharest commemorate WW1 centenary via the 'Soft skills in hard times. Remembering the service of Great Romanian and British women'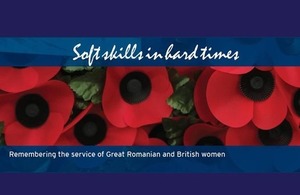 Project information
The project Soft Skills in Hard Times Remembering the Service of Great Romanian and British Women is part of a series of commemoration events for the WW1 Centenary. Through this initiative we aim to bring to the attention of young people and future leaders the stories of remarkable women working in challenging diplomatic settings during WWI and beyond, from both the UK and Romania.
Public exhibition
We invite you to discover the stories of these exceptional women via a public exhibition hosted on the exterior fence of the The National Museum of Art of Romania, Bucharest between 3 - 27 November. The full brochure of the exhibition contains an extended collection of archive photos can be downloaded below.
The exhibition was launched on October 27 at an event hosted by the British Ambassador at the Galateca art gallery. Gheorghe Magheru, Political Director in the Romanian Ministry of Foreign Affairs, Andrei Muraru Presidential Adviser as well as Cristina Toma, Deputy Director with the National Museum of Art attended the event and expressed their support for the initiative.
Seminars
The project is accompanied by a series of seminars:
26 November 2015: 'Nothing Quiet on the Eastern and Western Fronts'. The seminar aimed to focus on the work of Romanian and British women in promoting peace, security and humanitarian support. Guest speakers included Dame Mariot Leslie – former British Permanent Representative to NATO, Raed Arafat – Secretary of State within the Interior Ministry, Dana Tane – Red Cross professional and Madalina Vlangar – Internal Affairs Attaché at the Romanian Embassy in Spain.

03 March 2016: 'Collective and individual destinies.' The embassy partnered together with IICCMER (The Institute for the Investigation of Communist Crimes and Memory of the Romanian Exile) for an evening seminar looking at the meaning of collective and individual destinies of exceptional Romanian women. The special guest of the evening was British journalist Jessica Douglas Home, who shared her views on the role of public and private diplomacy in times of crisis as well as her reflections on the Ceausescu years from a British observer. The seminar also looked at women's leadership and explored the life stories of writer Alice Voinescu and artist Lena Constante among others.
Video blog series
A series of video blogs will be posted on Ambassador Paul Brummell's blog platform.
Follow us for updates
Published 1 October 2015
Last updated 7 March 2016
+ show all updates
Updated information on seminars
First published.