World news story
British Embassy Bucharest position regarding the latest developments in the fight against corruption
The British Government recognises the importance of the fight against corruption in Romania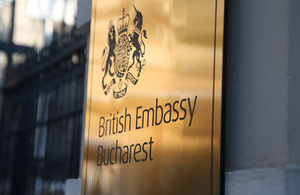 The British Government recognises the importance of the fight against corruption in Romania and the need for judicial and law enforcement institutions to be able to act with complete independence and impartiality. This is recognised in the reports of the European Commission's Cooperation and Verification Mechanism, which also highlight the important role for Parliament in supporting anticorruption efforts.
Ahead of the G7 summit in Germany, Prime Minister David Cameron highlighted how corruption threatens the prosperity and security of nations across the globe. The Prime Minister announced that the UK will lead an agenda to tackle corruption over the next year, with a major anti-corruption summit in London in 2016.
We do not comment on individual cases. Questions regarding the government of Romania are a matter for the Romanian people.
Published 9 June 2015