World news story
British Embassy Bucharest comments on the Romanian Senate's vote today regarding parliamentary immunity
This was published under the 2010 to 2015 Conservative and Liberal Democrat coalition government
No one is above the law.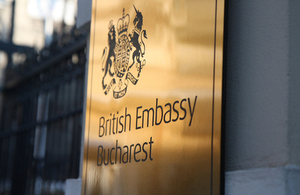 The British Embassy continues to follow developments in the field of rule of law in Romania, including decisions of the parliament with respect to parliamentary immunity. The most recent report of the European Commission on progress in Romania under the Cooperation and Verification Mechanism (CVM) noted that Romania has " a growing track record in terms of effectively fighting high-level corruption cases", while noting with concern that the "DNA had little success in persuading Parliament to accede to requests from the DNA for the lifting of immunity of Members of Parliament to allow for the opening of investigation and the application of preventive detention measures".
We recognise the positive role the Direcția Națională Anticorupție (DNA) has played in the fight against corruption and support its ongoing efforts in this field. Romania's judicial bodies such as the DNA are establishing a fundamental principle – that no one is above the law. That is a sentiment with which we strongly agree.