World news story
British Embassy brings pedal powered cinema to Lao PDR
At a pre-Christmas film screening at the Embassy, Ambassador Malone unveiled a pedal powered cinema unit.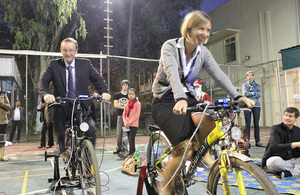 The British Embassy Vientiane unveiled an innovative way of watching movies, suitable for use in remote areas of Laos at a special pre-Christmas event on Thursday evening: a pedal powered cinema unit.
As a tribute to the Christmas season, the Embassy organised an informal film screening of two animated films from award-winning British production house Aardman Entertainments featuring Wallace and Gromit, "The Wrong Trousers" and "A Matter of Loaf and Death".
The British Embassy has a history of bringing film to Lao PDR. In the 1960s, the British Embassy social club was a popular place for foreigners living in Vientiane to gather to watch the latest releases, and the Embassy also had its own mobile cinema van that it took to villages around the capital to introduce villagers to film.
The pedal powered screening unit was brought to Vientiane from the UK as a cooperation between the British Embassy Vientiane and the Vientianale Film Festival, in partnership with British festival director and film maker Helen Ward. The kit was built as a prototype for local communities in rural north east England as a joint effort of three businesses: Fountain Design, a company specialised in the development of renewable energy prototypes machines, Jack Drum Arts, a culture and creativity enterprise, as well as Kids for Kids UK, a community interest company providing workshops and programmes for children around film.
In conjunction with the Vientianale, the aim is to take the pedal-powered screening unit to remote villages in rural areas of Laos where electricity is not available on a regular basis. The audience can take turns producing the electricity needed for screening films.
Helen Ward, who provided the creative inspiration for the pedal-powered cinema, said:
The medium of film can provide a bridge between cultures so I am delighted that we can provide not only the means for communities to watch films but also some of the best-loved films the UK has produced.
Ambassador Malone said:
I am pleased and excited about our new cooperation with Helen Ward. This project is an excellent example of how UK-based excellence can travel across the globe. This mobile screening unit, built with the joint forces of three businesses is a great way to showcase the strength of British innovation and creativity.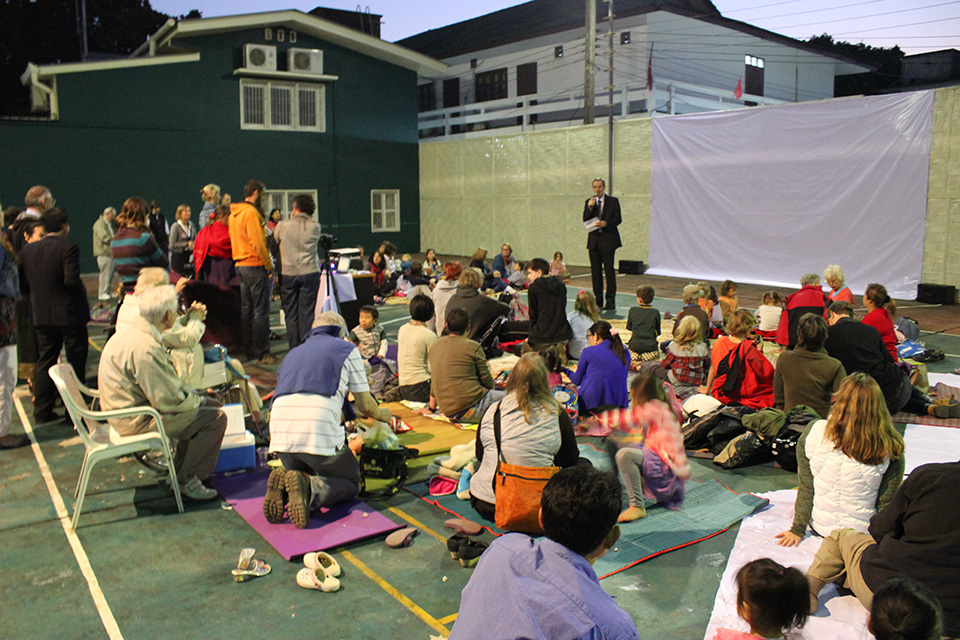 Guests at Thursday's screening were encouraged to bring their own seating and picnic and the embassy provided mats to sit on in the tennis court. As the guests were settling down, Helen Ward of Jack Drum Arts and Kids for Kids UK and Margarete Magiera from Vientianale International Film Festival unveiled an innovative compact pedal-powered cinema kit, consisting of two bicycle generators which charge a battery that feeds into a film projector.
Guests had to pedal the unit in order to be able to watch the films they had come to see. Children and adults eagerly took turns in powering the dynamo that charged the projector's battery.
While guests were busy pedalling and enjoying the films, Santa Claus appeared, dealing out little presents to children.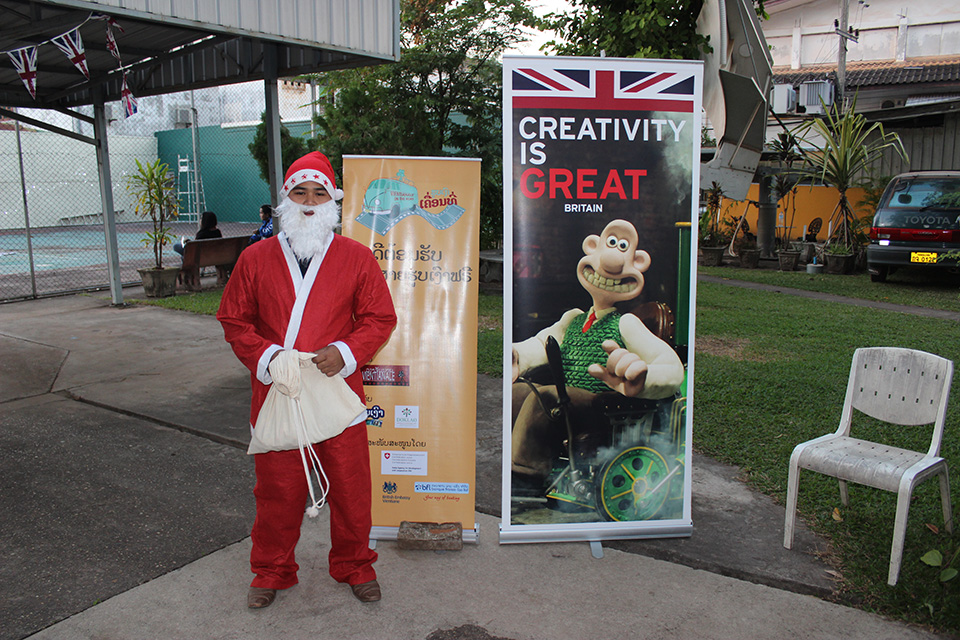 Published 20 December 2013