World news story
British Embassy awards winners of UK-CONCYTEC Fund
In collaboration with CONCYTEC and Cienciactiva, more than 4 million soles were granted for doctoral scholarships and joint research projects between Peru and UK.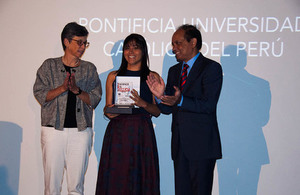 On February 17, British Ambassador Anwar Choudhury and President of the National Council of Science, Technology and Technological Innovation (CONCYTEC), Gisella Orjeda, participated in the award ceremony for the winners of the UK-CONCYTEC Fund. This initiative will finance seven research projects and two doctorate scholarships in prestigious British universities.
Jesus Mejia Maza, a graduate of Universidad Nacional Mayor de San Marcos, and Samy Sally Shirley Garcia Torres, a graduate of Pontificia Universidad Católica del Perú, were the winners of the doctoral scholarships. They will conduct their studies at University of Cambridge and University College of London, which are among the best universities in the world (number three and seven, in the last ranking from Times Higher Education).
During the ceremony, winners of collaborative research projects were also awarded, in areas such as health sciences, biotechnology, energy, among others. These research projects will be conducted between British and Peruvian universities and research facilities, including the University of Oxford and Universidad Cayetano Heredia. British Ambassador, Anwar Choudhury, said that due to its long experience in the field, the UK aspires to be Peru's top partner in education, scientific research and innovation.
Published 21 March 2016
Last updated 21 March 2016
+ show all updates
Added translation
Added translation