World news story
British Embassy and SESAN working together on malnutrition in Baja Verapaz
To mark the birth of His Royal Highness, Prince George of Cambridge, the British Embassy hosted a breakfast to raise funds for a SESAN project that supports malnourished children in northern Guatemala, complementing the Guatemalan government's Zero Hunger Pact.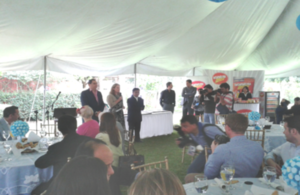 The beneficiary of the funds raised from the breakfast is the Nutritional Recovery Centre (NRC) in Purulhá, Baja Verapaz, headed by priest José Estuardo Can. The NRC project aims to improve access to care and treatment of malnourished children. The money raised will contribute to the purchase of an ambulance to help get the affected children the urgent care they need.
The United Kingdom supports Guatemala in its efforts to tackle child malnutrition. In June, Guatemala's Vice President Roxana Baldetti attended a "Nutrition for Growth" event in London, aimed at defining strategies to tackle this problem around the world.
To mark the fund raising event, British Ambassador to Guatemala, Sarah Dickson, said: "The birth of Prince George is an important moment in the life of the UK. I am sure that Their Royal Highnesses would agree that we should mark his arrival by helping to make a difference for other children. We welcome the efforts of SESAN and the Guatemalan government to tackle child malnutrition and are pleased to work with them on this project. We must do what we can to tackle this scourge, and I hope that the funds raised go some way to giving relief to those affected in Guatemala. Through people like Jose Estuardo Can, and the backing of SESAN, I'm hopeful for change here".
Published 26 August 2013