World news story
British Embassy and House of Fraser in Abu Dhabi
From:

Part of:

Published:

20 March 2014
This was published under the 2010 to 2015 Conservative and Liberal Democrat coalition government
Abu Dhabi selected as House of Fraser's first international home and the British Embassy join forces to promote Fashion and Retail is GREAT.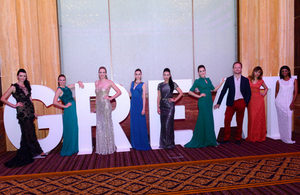 On the 19th March 2014, as part of 'GREAT Week UAE', the British Embassy and premium British department store House of Fraser Abu Dhabi jointly hosted a Fashion Show at the Dusit Thani hotel. The event celebrated the opening of House of Fraser's first international flagship store at the World Trade Center Mall Abu Dhabi, and was one of the major highlights of a week's worth of activity promoting the best of British retail, luxury and design.
The event showcased highlights of House of Fraser's Spring/Summer 2014 collections across womenswear, menswear and childrenswear. The scenes included key pieces from the British brands available at House of Fraser including Victoria Beckham Denim, Alexander McQueen, Vivienne Westwood, Markus Lupfer, Joseph and Kurt Geiger. Other looks showcased the local designer offerings to be found at House of Fraser including abayas from Ush and Whoop, and eveningwear from international brands including Carolina Herrera, See By Chloe and DKNY.
The UK is a global leader in retail, design and luxury goods and British brands are already succeeding on the international stage. The opening of House of Fraser in Abu Dhabi – a leading British department store with over 60 locations across the UK and Ireland - is a testament to British brand awareness and the popularity of British household names across all corners of the world. Abu Dhabi's retail landscape is expanding by the day and the UAE has the highest concentration of luxury brands in the Middle East. As the UAE develops its creative and retail industries, there are increasing opportunities for collaboration with the United Kingdom.
'GREAT Week UAE', organised by UK Trade and Investment brings a mission of over 40 British companies from the retail, luxury and design industries to showcase their world leading products to a UAE audience.
Speaking at the event the UK Ambassador to the UAE, Dominic Jermey said:
What a line-up of British brands! Tonight has been a brilliant demonstration that fashion and retail are cornerstones of Britain's creative industries. And what a pleasure to have House of Fraser playing such a central role in 'GREAT Week UAE' with such a vivid celebration that British companies remain at the cutting edge of style, creativity and innovation. Coupled with Abu Dhabi's impressive expansion in the retail industry I'm certain of great UK-UAE collaboration going forward".
Nabil Daud, CEO of Retail Arabia International and House of Fraser Abu Dhabi said:
We are very excited to celebrate 'GREAT Week UAE' with the British Embassy to mark the occasion of the first international House of Fraser flagship store. House of Fraser is an iconic premium British department store and we are thrilled to showcase the British brand offering we have brought to the region, and to demonstrate the brands we have in store that also appeal to the Middle Eastern consumer. GREAT Week is a fantastic initiative to celebrate the British brands that have successfully expanded into the UAE market and House of Fraser Abu Dhabi is thrilled to be part of this occasion".
Notes to Editors:
GREAT Weeks is a programme of trade missions from the UK for the creative, retail, luxury, food and drink sectors. Organised by UK Trade and Investment in collaboration with industry experts in some of the world's fastest growing markets, GREAT Weeks equip British businesses with the support they need to export overseas. Attendees benefit from gaining access to key decision makers, major buyers and potential partners in a range of countries. Each visit allows UK companies to build long term relationships and engage in high-level discussions. GREAT Weeks also run in parallel within high-profile events in the region, such as fashion shows or festivals. To find out more, GREAT Weeks.

GREAT Week is part of UK Trade and Investment's (UKTI) desire to increase business with the UAE. Our two countries have committed to increasing bilateral trade to £12billion/ AED 73billion by 2015.

UKTI is the government department that helps UK-based companies of all sizes succeed in the global economy, providing them with the tools they require to be competitive on the world stage. We help businesses grow through international trade, offering expertise and contacts through our extensive network of specialists in the UK, and in British embassies and other diplomatic offices around the world. We also help overseas companies bring their high quality investment to the UK's economy – acknowledged as Europe's best place from which to succeed in global business. For more information on UKTI, UKTI or visit the Newsroom online.

House of Fraser Abu Dhabi resides at the World Trade Center Mall in the heart of Abu Dhabi, spanning 100,000 square feet across four floors of upbeat and contemporary design. The store offers an extensive range of international brands across womenswear, menswear, homeware, beauty, kids and accessories. With an exclusive mix of new and exciting brands available for the first time in UAE, complemented by in-store services including personal shopping, beauty rooms and a mother and daughter spa; the result is an unprecedented shopping experience for Abu Dhabi at House of Fraser. Located at World Trade Center Mall on Hamdan Street. Phone: +971 26277558. Visit Facebook, follow us on Twitter and Instagram @HouseoffraserME.
Contacts for this Press Release:
Ruzina Hasan, Press & Media Officer British Embassy Dubai Email Tele: +971 (0)50 624 9536
Sinead Whelan, Marketing Executive House of Fraser – Abu Dhabi Email Tele: +971 561708244