World news story
British Embassy and DEFRA visit Ireland's premier agricultural show
British officials attend the National Ploughing Championships to understand and engage with Ireland's agricultural community.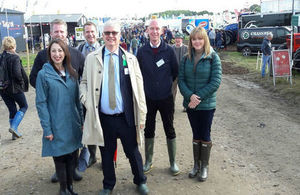 On 19 September, a team from the British Embassy in Dublin took a large delegation to the National Ploughing Championships 2017 in Tullamore, County Offaly. With some 300,000 visitors over three days, this is Europe's largest outdoor agricultural event.
"The Ploughing", as it is known, is a special moment in the Irish calendar. It includes exhibition areas for business, agricultural competitions - including ploughing by both modern tractors and wonderful horses - and attracts everyone from politicians including the President of Ireland and the Taoiseach to farmers, agri-businesses and local school children enjoying the lively atmosphere and a bit of mud.
Ireland is rightly proud of its agriculture and the quality of its food. But it is also a leader in agricultural innovation and there were some great start ups exhibiting including from Northern Ireland. The agri-food sector in Ireland generates 7.6 per cent of gross value added worth almost £12 billion. There are 139,600 farms in Ireland and when all forms of employment are included, the agri-food sector accounts for almost 10 per cent of jobs. The industry is well integrated across the island of Ireland. Around 30 per cent of the milk produced on Northern Ireland's farms is exported for processing in Ireland. More than 10,000 live pigs are exported from Ireland to Northern Ireland every week.
Ambassador Robin Barnett, who attended the opening ceremony with President Michael D Higgins, said:
As well as enjoying the great buzz everywhere, not least at the ploughing itself, our delegation from the British Embassy and a senior official from the UK's Department for Environment, Food and Rural Affairs are here to listen.

To farmers and their representatives, to agri-businesses and to the innovators, who will help ensure the sustainability of farming and rural communities.With forty per cent of Irish agricultural exports heading to the UK, this is a sector which has particular concerns about the implications of our decision to leave the EU.

Ensuring that we avoid a border on the island of Ireland and achieving a comprehensive free trade agreement between the UK and the EU, two of our top negotiating priorities will help address the sector's concerns.
Tim Mordan, Deputy Director of Farming Productivity at DEFRA spoke at Bank of Ireland's panel discussion on Brexit and was on hand to answer questions from farmers. He said:
We know the importance of this sector to Ireland. We want to continue the free flow of agri-food products across the border and are committed to preserving our strong economic ties, including through a comprehensive Free Trade Agreement.

Ministers have been clear there will be no decline in animal welfare, environmental or food safety standards in the future.
Ambassador Barnett and the Embassy team also met with a number of exporters, investors, and key companies in the sector including ESB, Glanbia, Alltech and Hampton Steel. He also visited the Enterprise Ireland Innovation Arena meeting agri start ups Samco, Herdwatch, Lean Dairy Farm and Farm Edge.
Published 25 September 2017