News story
British EBRD President Suma Chakrabarti elected for second term of office
Sir Suma Chakrabarti has been elected to serve as President of the European Bank for Reconstruction and Development for another four years.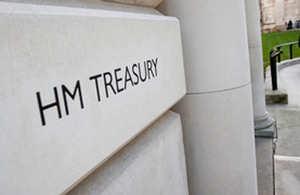 The Chancellor has welcomed the election of Sir Suma Chakrabarti for a second term as President of the European Bank for Reconstruction and Development (EBRD).
First elected in 2012, Sir Suma has today ( Wednesday11 May 2016) been formally elected to serve as President for another four years. Under his stewardship, since 2012 the EBRD has acted flexibly to deliver targeted investment across Europe, against a backdrop of challenging economic and geo-political environments.
Supported by the track record of his first term of office, Sir Suma has shown he is the best person to lead the EBRD as it expands new markets and leverages private investment in Europe, including supporting small and medium enterprises to grow and expand.
Welcoming the election outcome, George Osborne, Chancellor of the Exchequer said:
I am pleased to welcome the appointment of Sir Suma Chakrabarti to a second term of office as President of the European Bank for Reconstruction and Development.

Building on his track record of success since 2012, Sir Suma is best placed to lead the institution for a further four years, capitalising on a positive and progressive vision for the EBRD that steps up its delivery, investment and impact.
The EBRD was founded in 1991 with its headquarters in London.
The EBRD is a global institution with 67 shareholders and operates in over 30 countries across Europe, central Asia and the southern and eastern Mediterranean.
The institution's mandate is to foster the transition towards open market-oriented economies and to promote private and entrepreneurial initiative in countries committed to and applying the principles of multiparty democracy, pluralism and market economics.
Governors elect a President for the EBRD every four years by a majority vote following nominations for the Presidency.
Sir Suma was first elected as President of the EBRD in 2012, the first British President in the EBRD's 25 year history.
Prior to this appointment, Sir Suma was Permanent Secretary of the British Ministry of Justice, and also headed the UK's Department for International Development.
Published 11 May 2016