World news story
British Deputy High Commission to host Commonwealth Big Lunch in Mumbai
British Deputy High Commission along with other Commonwealth Diplomatic Missions in Mumbai to bat for renewed ties through a T20 cricket match.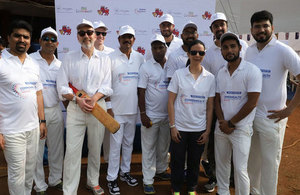 The British Deputy High Commission will host a friendly Commonwealth cricket match in Mumbai at the Police Gymkhana, Marine Lines on Saturday, 7 April 2018. Organised with support of the Mumbai Cricket Association (MCA) and other diplomatic missions, it celebrates the Commonwealth, shared values and connections through food.
With cricket being a widely played game among many countries of the Commonwealth, this friendly match in Mumbai as part of the Commonwealth Big Lunch aims to invoke sporting spirit, camaraderie and renewed ties.
Using the T20 format and a mixed gender team, the players from the assortment of diplomatic missions representing Australia, Canada, New Zealand, Sri Lanka and the United Kingdom will compete with veterans and former players from the MCA in this friendly match.
The invited guests will be from among our network of Commonwealth scholars, the Queen's Young Leader award winners, Chevening scholars and other diplomatic contacts.
The gathering in Mumbai is one of many Commonwealth Big Lunches happening across the 53 Commonwealth nations from 12 March - Commonwealth Day - until Sunday 22 April.
Launched by the Eden Project in partnership with the UK government, thousands of people from across the Commonwealth are coming together to celebrate, discover and share their Commonwealth links, stories and experiences with one another over a shared meal and activity.
Lunches are being held ahead of and during the Commonwealth Heads of Government Meeting (CHOGM) 2018. Unfolding over five days, leaders and foreign ministers from up to 53 countries and over 2,000 delegates will gather in London and Windsor, UK from 16 to 20 April to discuss and agree how to work together to address shared global challenges.
Crispin Simon the British Deputy High Commissioner for Western India, the Director General of the Department for International Trade, India and South Asia said:
With cricket as a unifying game, we want to bring people and communities together to celebrate a sense of common purpose. The aim of this year's CHOGM, 'Towards a Common Future' signifies just that. It will be another great opportunity to appreciate and strengthen the connections we've got to each other and to keep alive the relevance of the Commonwealth.
Peter Stewart MVO, Executive Director of the Eden Project said:
From Commonwealth Day onwards, we've been encouraging people to come together to share friendship, food and fun with people where they live. The celebration is one of many taking place across 6 continents which is just phenomenal!

Commonwealth Big Lunches bring people together, show the diversity we all have and importantly celebrate the commonality we all share which showcases the true spirit of the Commonwealth.
Commonwealth Big Lunches were inspired by and build on the Eden Project's annual Big Lunch, which was launched in 2009 as a way to connect people with their communities over a shared meal.
Further information
Commonwealth Heads of Government Meeting
In April 2018 the UK will host the Commonwealth Heads of Government Meeting, where leaders from across the Commonwealth will gather in London and Windsor. With the theme of 'Towards a Common Future' they will work to create a more prosperous, secure, sustainable and fair future for the Commonwealth's 2.4 billion citizens, particularly its young people.
For more information please visit Commonwealth Head of Government Meeting or follow on Twitter @commonwealth18 #OurCommonwealth.
The Eden Project:
The Eden Project is an educational charity and social enterprise based in Cornwall, UK, that aims to connect people with one another and the natural world to explore a better future.
The Eden Project Big Lunch takes place this year on Sunday, 3 June.
For more information please visit Commonwealth BigLunch website.
Media
For media queries, please contact:
Alex Cameron
Head of Communications
British High Commission
Chanakyapuri, New Delhi 110021
Tel: 24192100; Fax: 24192400

Mail to: Prachi Jatania
Follow us on Twitter, Facebook, Instagram, Flickr, Storify, Eventbrite, Blogs, Youtube, Periscope @UKinIndia, Snapchat @UKinIndia
Published 5 April 2018