World news story
British Deputy Ambassador launches student parliament at Cairo University
This was published under the 2010 to 2015 Conservative and Liberal Democrat coalition government
British Deputy Ambassador at the opening ceremony of Model British House of Commons: "This is training for democracy in action and empowered young leaders will build Egypt's future."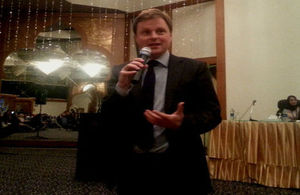 On Monday 20th April, British Deputy Ambassador Stephen Hickey attended the opening ceremony of the Model British House of Commons at Cairo University and encouraged young Egyptians to help build a strong, democratic future for their country.
In a speech to the young Cairo University students who will take part in the Model Parliament's activities, Hickey said:
"Across Egypt, there are active and dynamic young people who are passionate about seeing positive change in their country. The students from Cairo University I have met today are no different: I am confident that many here today will be Egypt's next generation of leaders in business, politics, art and culture.
"I am proud to be here today to launch this year's Model British House of Commons because it brings the great tradition of British democracy together with the energy and passion of these young Egyptian students. It truly is training for democracy in action.
"I believe strongly Egypt will succeed if young Egyptians like these are encouraged and empowered to build effective institutions and a strong democratic future for their country."
The Model British House of Commons is a student-run organisation supported by the Faculty of Political and Economic Science at Cairo University. Over the course of a five-day conference, around 150 young students will take part in simulations of the British Parliament and will debate issues such as the war against ISIL, the relationship between the UK and the EU, and the British Education system.
The UK provides a wide range of support to young people in Egypt. In 2014, the UK increased the number of Chevening scholarships available to Egyptian postgraduate students and announced the launch of the Newton-Mosharafa fund, a scientific research partnership worth £20 million over 5 years. The British Council in Egypt not only provides top-class English language classes but also builds partnerships with Egyptian institutions and the government across the arts, education, and society.
The British House of Commons is the lower house of the British Parliament and is an elected body consisting of 650 Members of Parliament. The British Parliament is known as "mother of parliaments" for its influence on democratic systems across the world. Its origins go back over 1,000 years, making it is one of the oldest continuous representative institutions in the world.