World news story
British Council launchs new Education UK website
New Education UK website to boost international promotion of UK education, and help international students to plan their UK studies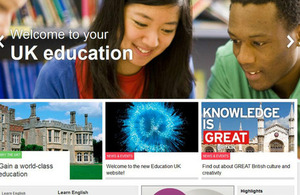 The British Council is pleased to announce the launch of its new Education UK website www.educationuk.org which will deliver real benefits to international students and to the UK education sector. The website aims to inspire international students to choose a UK based educational opportunity, drive course enquiries to UK institutions and help international students to plan their UK studies and settling in with student life.
Paul Doubleday, Director of British Council Oman, said:
The Education UK brand and services have had great success around the world in ensuring that ambitious students are aware of the first class reputation the UK enjoys. As students becoming more savvy and the market more competitive, we decided to revamp our digital offer to build on its success and use the latest innovations to help students in their decision making to come to the UK.
The Education UK website is the number one resource to promote UK education to international students. It attracts 2.2 million unique visitors each year and offers advice and resources to help students find suitable UK courses and scholarships. As international competition grows for globally mobile students, the British Council has re-designed the website and added significant enhancements in order to better present all that the UK education sector has to offer.
On the site, students can find out how the UK offers them a world-class education, internationally respected qualifications, great career prospects and a real adventure. They can also get advice on planning their studies and search for courses and scholarships. The new site is designed to represent all UK education sectors - boarding schools, English language schools, colleges and universities.
Some of the new features the site offers includes an enhanced course and scholarship search tool, a social media integration that would allow students to post queries on the Education UK website's facebook page. The website would also feature content on international student experiences in the UK and advice to students on all aspects of student life and how to make the most of their time whilst at University in the UK.
Published 31 July 2013