World news story
British Council in Pakistan signs MOU with the Government of Khyber Pakhtunkhwa
The Parliamentarian Capacity Building Programme, will support the Khyber Pakhtunkhwa Assembly to increase the effectiveness of parliamentary processes in KP Assembly.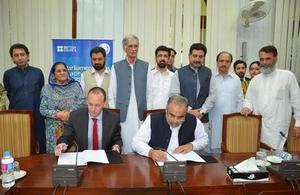 The Khyber Pakhtunkhwa Assembly, Government of Khyber Pakhtunkhwa (KP), y has signed a memorandum of understanding (MoU) with British Council Pakistan, at a high-profile event, organised in the Assembly Secretariat. The Honourable Speaker, KP Assembly, Mr Asad Qaiser and British Council Acting Director, Mr Jim Booth were the signatories. The event was attended by ministers, MPAs and senior government officials, British Council staff and media.
The "Parliamentarians' Capacity Building Programme", is an 18-month partnership that aims to support the Provincial Government to increase the effectiveness of parliamentary processes in KP Assembly. Furthermore, this project will significantly improve the capacities of Members Provincial Assembly (MPAs) KP and parliamentary and legislative processes to reinforce informed decision/policy-making in a more transparent and participatory way.
The British Council will help to strengthen the legislative body with skills, knowledge and trainings, utilising high-level and technical expertise from Scotland, Isle of Man and United Kingdom. Subsequently, 124 MPAs from KP Assembly will be made a part of extensive trainings and exposure visits to replicate best practices.
With support from KP, the British Council will also provide technical and part of financial assistance to develop a concrete programme framework, covering the thematic areas of good governance; legislative needs; e-governance; parliamentary practices and business rules; accountability procedures; understanding of working departments and legal drafting etc.
Jim Booth, British Council Acting Country Director, said:
British Council is thrilled to sign this MoU. This formalises our commitment to working in partnership with the KP Assembly/government. This programme is a major step forward with our work to support the people of KP and will create stronger links between the UK and Pakistan.
Honourable, Asad Qaiser, Speaker KP Assembly, said:
Today, I am very pleased that the capacity building program of the Parliamentarians is culminating into a dream come true development mutually sponsored and greed both by the British Council Pakistan and the Provincial Assembly of Khyber Pakhtunkhwa.

After going through the pre-requisites and prelude of the program, it is expected that our legislature will have better input from the parliamentarians that will benefit in resulting solid legislation and formulation of laws keeping in mind best practices coupled with local demands and history of this province-the people of Khyber Pakhtunkhwa.

I do hope that this practice will be carried forward to the coming assemblies and will go along way with the able support of British Council Pakistan for which I whole heartedly appreciate the entire Council's staff and their counter parts abroad.

I also take this opportunity to thank the government of Khyber Pakhtunkhwa, the Steering Committee on Capacity Building and the Assembly Secretariat enabling this cause to become a reality.

The overarching objective of the British Council programmes is to strengthen bilateral relations and build strong future collaborations to support KP Government in governance, education, tourism and security.

Through the "Parliamentarians' Capacity Building Programme", the British Council and Assembly members will ensure that the role of Parliament in legislation and good governance, is improved and accountability processes in KP Assembly is enhanced.
Notes to Editors
British Council
We are the United Kingdom's international organisation for educational opportunities and cultural relations. Our entire work revolves around building trust and understanding between people from different cultures. Through the exchange of knowledge and ideas we help people find their voice through a wide range of programmes in the arts, education, governance, English language and industry. We reach millions of people in 110 countries and territories around the world.
Contact
Torsum Khan
Communications Manager
British High Commission
Islamabad
E-mail: torsum.khan@britishcouncil.org.pk
Mobile: +92 (0) 300 022 7269