World news story
British Council and Airtel Zambia partner to provide free internet to schools in Zambia
Speaking at the launch of the Partnership between Airtel Zambia and British Council at Matero Girls Secondary School on 18 February 2015, British Council Zambia Country Director, Wayne Harper, said: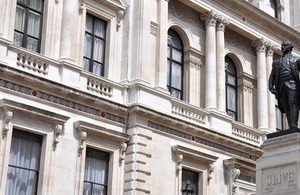 "The British Council is delighted to partner with Airtel in the provision of ICT in 14 digital hubs that we have set up in various schools in Zambia since 2011. Access to ICT in schools and its subsequent use in learning and teaching enables international engagement, helping teachers and students access a wide range of teaching resources through our interactive online platform-British Council Schools online.
"Connectivity is one of the major challenges that has been affecting the utilisation of the hubs. With this partnership in place, Airtel will provide 5GB free data per month starting with Matero and subsequently scaling up to the remaining 13 hubs. We anticipate an increase in the usage of the hubs."
More than 280 schools in Zambia are expected to benefit from the free internet connectivity provided by Airtel Zambia under the British Council Connecting Classrooms programme.
The British Council manages Connecting Classrooms which is a global programme that establishes and develops long-term, sustainable partnerships between education authorities and schools in the UK and the rest of the world.
British Deputy High Commissioner Sean Melbourne said:
"The launch demonstrates the UK's commitment to partner not only with countries in their economic development but with students in their academic development. This corporate Social Responsibility partnership between the British Council and Airtel Zambia is an important one. These digital hubs will provide an over-arching framework for effective use of ICT to support collaborative school partnerships and skills development across the region and the UK."
And Airtel Networks Zambia Plc Director of Corporate Communications, Government Relations and CSR Joseph Kafwariman said:
"Our aim is to fulfil the potential that access to wider broadband connectivity offers in achieving our Corporate Social Responsibility educational goals. This continues Airtel's CSR strategy on Education and sustainable Community Development Initiative. High speed broadband access provided by Airtel Network Zambia Plc. guarantees teachers and students limitless new educational opportunities. The Hubs in schools will serve as ICT centres for teachers, students and wider communities
Further information
The British Council is the UK's international organisation for educational opportunities and cultural relations and has offices in more than 100 countries around the world.

Connecting Classrooms is a global education programme for schools. It is designed to help young people learn about global issues and become responsible global citizens, as well as giving them the skills to work in a global economy. It offers school partnerships; professional development courses for teachers; accreditation; and the chance to share best practice with international counterparts.

Connecting Classrooms enables students, teachers, and district education authorities to develop intercultural skills, exchange information, knowledge and experience, as well develop joint curriculum projects.

The British Council facilitates and funds the setup of digital hubs in schools, enhance teachers' knowledge and skills in the use of technology, and provide an online platform where schools can collaborate globally.

Since 2011 the British Council has set up 14 digital hubs: Matero, Livingstone, Choma, Chirundu, Siavonga, Mongu, Chilanga, Kitwe, Solwezi, Mansa, Kabwe, Kasama, Chinsali and Chipata. Each digital hub consists of 20 computers with access to a range of British Council resources.

Since 2006, more than 300 school partnerships have been developed between Zambia and the UK. During this time, over 1200 teachers have been trained in ICT, global citizenship and a range of skills to facilitate working in an international context. 215 school leaders have participated in school leadership courses since 2011.

Each digital hub has a trained Digital Ambassador, who is a teacher from the host school who supports capacity building for teachers and students.

For more information please contact:
Alfred Kapalayi British High Commission Tel +260 211 423200 Mobile: +260 955 945771
Cyril Chitambo British Council Tel +260 211 376700 Mobile +260 979 480 908 Website: www.britishcouncil.org/africa
Yuyo Kambikambi Airtel Networks Zambia Plc Email: yuyo.nachali-kambikambi@zm.airtel.com Mobile: +260 978 981396
Published 18 February 2015