World news story
British Consulate General support in North of West Bank
British Consul General Sir Vincent Fean launched two projects in the villages of Alaqaba and Bardala located in Tubas north of the West Bank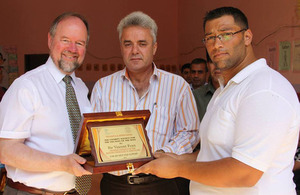 The Consul General opened a kindergarten in the village of Bardala, north of Tubas. The British Consulate General in Jerusalem funded The Charity Society for the Villages of the Wall, based in the village, to renovate and supply the kindergarten with stationary, a photocopier, a laptop, a water cooler, outdoor cisterns, fans, outdoor and indoor toys and kitchen equipment, to improve its physical condition. The only kindergarten in the village, it receives around 70 students each year including children from the nearby village of Kardala, located in Area C.
The Charitable Society for Villages of the Wall (Bardala, Kardala and Ein el-Beida), was established in 2007 to create a common vision of development for the three villages, strengthening solidarity with villages of the northern Jordan Valley and creating income generating projects for the local community. Sir Vincent Fean also visited Alaqaba village, located in Area C, and inaugurated Alaqaba Club for Union and Hope. The British Consulate funded the furnishing of the club, the purchase of uniforms for its sport groups, as well as an LCD screen. The club hosts over 200 young women and men from Alaqaba and the near villages.
The launching ceremony was attended by the Governor of Tubas Dr. Marwan Toubasi, the head of Alaqaba Local Council Haj Sami Sadeq, as well as a number of prominent local figures. Consul General Sir Vincent Fean said:
"I am glad to deliver greetings and best wishes from the British government and people to the people of Tubas, particularly the good citizens of Bardala and al Aqaba. Those people deserve to live in peace and dignity in their own homeland and to create a better life there for their children. We are glad to support the kindergarten in Bardala and al Aqaba club for unity and hope. It is important for the people including the young to stay on their land. The British government supports the efforts of the Palestinian authority to administrate these villages and to improve the lives of the Palestinian people. I congratulate Haj Sami Sadeq for his tireless efforts to promote the interests and wellbeing of the people of al Aqaba in the face of many challenges. He is an example to us all of determination, conviction and selfless service to his community."
These two projects come as part of the British Consulate's continuous support to vulnerable Palestinian communities living in Area C. The village of Al Aqaba for example is under complete Israeli military control and civil jurisdiction. The Israeli Civil Administration has so far issued demolition orders against tens of houses and structures in the village, including the medical center, an internationally-funded kindergarten, and the village mosque.
The British Consulate supported the medical clinic in 2001, which has also a demolition order. The intervention of UK Foreign Secretary Jack Straw has prevented the demolition of the clinic back then.
Published 9 July 2013