World news story
British Consul General visits Gaza
Senior British representatives visited Gaza today to see and understand the situation in Gaza after over 50 days of violence.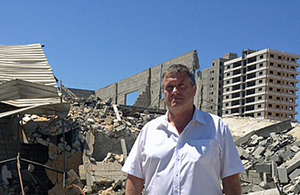 The British Consul General in Jerusalem, Dr Alastair McPhail, visited Gaza today, with Matt Carter, Acting Head of the UK's Department for International Development in the Occupied Palestinian Territories. They saw first-hand the situation in Gaza after over 50 days of violence.
Dr McPhail and Mr Carter's visit included Gaza City Centre and the neighbourhoods of Shuja'iyya and Tuffah. They inspected two Gaza City schools that are still acting as an emergency shelter for displaced Palestinians.
Robert Turner, UNRWA's Director of Operations in Gaza, briefed them on the humanitarian situation. They also met Gaza based ministers of the Palestinian Independent Technocratic Government at the UNRWA compound in Gaza City.
At the end of the visit, Dr McPhail said:
The British Government and I are shocked and saddened by the unimaginable suffering of the Gazan people. We admire and respect their resilience and entrepreneurialism. And we will continue to stand with them.
Mr Carter added:
UK relief aid will go to the most vulnerable: providing shelter for the displaced, food for the hungry, clean water for the thirsty and medicine for the sick.
The UK has committed £17mn in relief aid and medical assistance, on top of our existing £349m programme to the OPTs in 2011-15.
Published 3 September 2014