World news story
British company signs health services supervision contract in Peru
Currie & Brown, British company specialising in Public Private Partnerships (PPP) projects, will supervise health services delivery in Peru.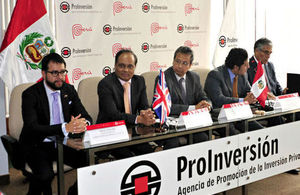 On 9 June, the Ministry of Health of Peru, through the Institute of Health Services Management, and Currie & Brown Company signed a contract for Management Oversight of the National Institute of Child Health. Executive Director of ProInversión, Carlos Herrera Perret; British Ambassador to Peru, Anwar Choudhury; and Deputy Minister of Health Insurance Benefits, César Chanamé, attended the contract signing.
The supervision activity of the National Institute of Child Health includes functions of verification, monitoring and control obligations assumed by the private operator (Peruvian Company Management Hospital). This will ensure the fulfillment of each one of the indicators of quality service, established at the contract management.
"The oversight guarantees the quality of services provided in the Management Agreement for the benefit of Peruvian population. The Management Agreement marks the first step in a process of a new wave of PPP projects in social infrastructure, together with the Ministry of Health and the private sector," said the Executive Director of ProInversión.
Peru is experiencing a steady growth in the health sector, with a high demand for quality services, training and medical equipment. As part of a major reform of the health system, the Peruvian government is promoting big infrastructure projects through an ambitious investment plan. These growing needs have become an opportunity for both British and Peruvian institutions -public and private- to form alliances for the development of projects in this sector.
See photo gallery: http://ow.ly/P3try
More information:
If you are a British Company interested in finding out more about business opportunities in Peru or you are a Peruvian company in search of British business partners or suppliers, please contact the UKTI Team at the British Embassy in Lima UKTI.lima@fco.gov.uk.
Published 30 June 2015