World news story
British company makes donation to Ebola Response
This was published under the 2010 to 2015 Conservative and Liberal Democrat coalition government
British Company, Dawnus International, Makes a $25,000 Donation to Sierra Leone's Ebola Response.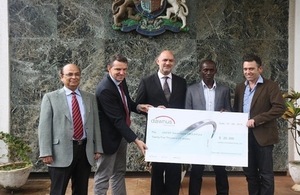 A British company, Dawnus International, has just donated $25,000 to UNICEF to assist with the fight against Ebola. The head of UNICEF in Sierra Leone, Mr Roeland Monasch, said that this support would contribute to essential UNICEF work in eradicating the outbreak and in particular will focus on promoting a wider public awareness and understanding of the disease in more isolated communities across Sierra Leone.
Dawnus has been operating in Sierra Leone since 2010 working on Iron-ore and infrastructure projects in Marampa and Tonkolili. The company currently employs over 1400 Sierra Leoneans making it one of the largest private sector employers in the country.
Dawnus Operations Director Mike Condon said:
"Since arriving in Sierra Leone, Dawnus has undertaken a commitment to make a wider contribution to the country through the delivery of multiple community projects across the areas in which we operate. We are heavily focused on the training and mentoring of our employees and, where possible, we maximise local content and develop national capacity.
All of us at Dawnus would like to extend our support and respect to those working to contain the Ebola outbreak. This is the largest Ebola emergency ever and a lack of awareness, amongst some communities, of how to identify, avoid and contain the disease is encouraging its spread. We hope that this donation will assist UNICEF to improve awareness and ultimately save lives"
"I am particularly pleased to hand over this cheque to UNICEF at the Residence of the British High Commissioner and alongside Councillor Paul Kamara from Rogbere Junction where we have our headquarters. Councillor Kamara is kindly representing the Honourable Minister of Local Government and Rural Development, Finda Diana Konomanyi and the Honourable Minister of Health and Sanitation, Miatta Kargbo who are both attending to urgent government business associated with the Ebola outbreak.
In situations such as this, coordination is essential and we have worked alongside the British High Commission, DFID and the Sierra Leonean authorities to ensure our donation will contribute to the Government of Sierra Leones' response and that it impacts the areas most in need."
Visit www.dawnus.co.uk for more information